This is a sponsored post from ONA23 supporter SnapStream. SnapStream's platform for recording, transcribing and clipping live events is available as a cloud-hosted subscription service via any browser. Its clipping-for-hire service is available on an as-needed basis for customers and partners.  Learn more at SnapStream's website.
ONA greatly boosted the visibility of this year's conference in Philadelphia using short-form video moments that generated 27x more views than did the public live streams of the panel sessions and Online Journalism Awards. Conference attendees engaging with SnapStream video moments helped amplify ONA23 to their combined 3.5 million followers and made a number of clips go viral.
Any organization hosting a live event wants to have the biggest possible impact. SnapStream's short-form video clips highlighted the most meaningful moments from the meatiest long-form panel discussions — from diversity in the newsroom to the effects of artificial intelligence on journalism — to magnitudes more people than attended in-person or watched live online.
ONA video clipped with SnapStream helped drive:
1.6 million total impressions

93,644 video views

23,180 engagements
A 30-second clip of Pulitzer Prize-winning reporter Nikole Hannah-Jones received over 100x more views than the live stream she appeared in, as well as 130,000 impressions. "How many times have we seen euphemisms for racism? 'Racially tinged,' what does that mean?" she asked on-stage. "It means nothing."
"How many times have we seen euphemisms for racism?

'Racially tinged', what does that mean?"

"It means nothing."

—@nhannahjones speaks to @versharma about journalists' fear of appearing biased. #ona23 pic.twitter.com/YKFyvel0gs

— ONA23 (@ONAConf) August 25, 2023
SnapStream's Brennan Murphy, who cut the clip of Hannah-Jones, said her sentiment affected him. "If you as a clipper react to content a certain way, your audience probably will too," he said. "It comes down to serving what you notice in a consumable way, and SnapStream is the best tool for doing that."
SnapStream gives users the ability to record and clip streams in real-time—as an event is happening—with the help of AI-powered transcripts and summary tools. Using the product, SnapStream live clippers were able to easily and collaboratively make moments alongside ONA Communications Manager Carrie Blazina, who oversaw social media for the conference.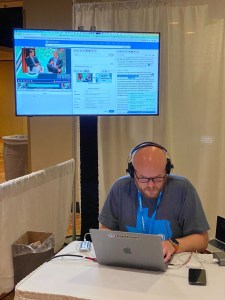 "There's so much happening at a conference like ONA that no one person can take it all in," said SnapStream's Graham Lampa, who heads marketing for the Houston-based company. "With a 'Moments Strategy' for your event, you can generate moments that matter to people beyond the attendees watching in the room or on the Zoom. Moments make it possible to break out of your bubble."
Together, ONA and SnapStream accomplished more than either organization could have alone. The partnership combined the best aspects of in-person and online engagement—as well as long-form and short-form content—to greatly increase engagement with the conference's important conversations about the present and future of journalism.