We design many ways for attendees to spark meaningful connections throughout ONA's annual conference, and it starts with your conference badge. Your badge can help you make a standout first impression and is a great conversation starter to find people like you.
Upon arrival at ONA23, head to the Registration Desk on the fifth floor to pick up your official badge. Then add ribbons, buttons or your own creative flair to show off your interests and role within ONA the community.
Here's a peek at the flair you will see in Philadelphia. Plan to grab the ones relevant to you and ask other attendees about theirs!
NUMBER BUTTONS: Use one of these buttons to share how many ONA annual conferences you've attended, including ONA23. If it's your first time, you're #1!
"I VOTED!" BUTTONS: Voting is open through Sept. 7 to fill six seats on the 2024-25 Board of Directors. ONA members as of Aug. 10 are eligible to cast a ballot. Once you've done your voting duty, this button is for you.
BOARD CANDIDATE and BOARD OF DIRECTORS: Meet some of ONA's current and future board leadership while you're in the registration area. Board members and candidates in this year's election will spend time there on Wednesday and Thursday mornings. Another great opportunity to connect with the candidates is at the ONA23 Welcome Party on Thursday evening.
COMMITTEE CHAIR
EXECUTIVE DIRECTOR
FEATURED SPEAKER
FOUNDING MEMBER
ONA MEMBER: Learn more about ONA membership and join your peers in sustaining our work year-round.
ONA STUDENT NEWSROOM AND INNOVATION LAB
OJA REVIEWER: More than 200 screeners and judges from around the world volunteered their time and expertise to select finalists from over 1,500 entries in the 2023 Online Journalism Awards
OJA FINALIST and OJA WINNER
PROGRAM COMMITTEE: Each year, we enlist a diverse group of journalists, news leaders and other digital media professionals to shape the conference programming. Many thanks to the ONA23 program committee for an incredible slate of sessions and speakers!
RECRUITER
SPEAKER
SPONSOR
STAFF
WOMEN'S LEADERSHIP ACCELERATOR
VOLUNTEER
FELLOW
Special thanks to our ONA23 sponsors.
How to get your ONA23 badge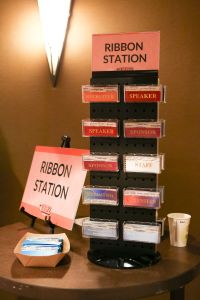 The Registration Desk is located in a large open space on the 5th floor. Access the 5th floor foyer via the escalators or elevators. This area is also where you will find the Help Desk. Drop by for any questions about the conference experience, including support with the mobile app.
Registration Desk hours:
Tuesday, Aug. 22, 6:30–8:30 p.m.
Wednesday, Aug. 23: 8:30 a.m.–5 p.m.
Thursday, Aug. 24: 8:30 a.m.–5 p.m.
Friday, Aug. 25: 9:30 a.m.–4:30 p.m.
Saturday, Aug. 26: 9:45 a.m.–4:15 p.m.
More tips for networking at ONA23